The best accounting software for consultants offers robust features, such as project-based invoicing, time tracking, and client management, tailored to a consultant's specific requirements. We evaluated several solutions to help you manage finances and stay on top of invoicing and expenses. Here are our top five accounting software for consultants:
Comparison of Best Accounting Software for Consultants
FreshBooks: Best Overall Accounting Software for Consultants

Pros
All plans include unlimited invoices
Built-in time tracker and other project accounting features
Excellent customer service
User-friendly interface
Capable mobile app
Cons
Can't monitor income or expense by class
Fee charged for additional users
Unable to track and reconcile bank accounts without a live bank connection
Limits the number of users and billable clients with Lite and Plus plans
Pricing
FreshBooks offers a choice of four plans, and pricing is based on the number of billable clients. Each plan allows for one user, though you can add more for $11 per person, per month:
Lite: $17 per month for up to five billable clients
Plus: $30 per month for up to 50 billable clients
Premium: $55 per month for unlimited billable clients
Select: Custom pricing for unlimited billable clients and specialized features
The provider also offers a 30-day free trial.
We chose FreshBooks as the best accounting software for independent consultants because of its robust project management and time tracking features. It can compare estimated and actual project costs, which helps with determining whether you are over or under budget.
What's more, it allows you to accept online payments and create recurring invoices, two features that will help your cash flow. It calculates late fees automatically, and you can print a list of outstanding invoices. FreshBooks is also extremely easy to use, with intuitive navigation and a clean user interface.
Invoicing: FreshBooks' strong customization features include the ability to add a logo and create a personalized message, and you can set up recurring invoices as well. You can convert estimates to projects and compare estimated vs actual project costs.
Customer service: FreshBooks stands out among its competitors with its customer service options that include phone and email support and the ability to contact FreshBooks directly by phone. It also has a vast knowledge base of resources.
Time tracking: FreshBooks allows you to track your time and billable hours easily, with the option of setting up automatic time tracking so that you won't miss any billable time. You can also track time on the mobile app, which is especially useful when working remotely. While we selected AccountSight as the best free time tracking software in this guide, it cannot track time by project or customer, a feature that FreshBooks offers,
Mobile app: With FreshBooks' mobile app, you can create and send invoices, enter and pay bills, accept payments online, communicate with clients, and track mileage.
Expense tracking: FreshBooks lets you track expenses by taking a photo of a receipt, uploading it to your account, and categorizing it. You can also connect your bank account to import your transactions automatically.
Small service-based businesses: FreshBooks is well-suited for service-based businesses such as law firms, accounting firms, and marketing agencies, as it excels at tracking time and billable hours for client projects. FreshBooks allows you to track time by project or customer, a feature that other providers like AccountSight lack.
Freelancers and solopreneurs: FreshBooks provides do-it-yourself (DIY) bookkeeping that is easy to use if you lack bookkeeping experience. We selected FreshBooks as one of the top accounting software programs for freelancers because of its tools for service- or project-based freelancers tracking hourly labor.
Consultants that process invoices frequently: FreshBooks offers unlimited invoices and has strong customization tools, including the ability to modify invoice design, add a logo, and a personalized message. You can also set up recurring invoices if needed.
QuickBooks Online: Best Accounting Software for Growing Consulting Businesses

Pros
Scalable plans that are priced by included features
Wide selection of accounting and financial reports
Access to local independent QuickBooks ProAdvisors
Track time and expenses and add to customer invoices
Cons
Unable to compare estimated to actual project costs
Mobile app can't record time worked
No industry-specific features
Must subscribe to Plus or Advanced plan to track project profitability
Pricing
QuickBooks Online offers four plans. You must subscribe to the Essentials plan or higher for access to time and expense tracking—and only the Plus and Advanced plans offer the ability to track project profitability:
Simple Start: $30 per month for one user
Essentials: $55 per month for up to three users
Plus: $85 per month for up to five users
Advanced: $200 per month for up to 25 users
A 30-day free trial is available. You can also opt to subscribe now to get 50% off for three months.
QuickBooks Online is our best accounting software for growing consulting businesses largely because of its ability to scale as your business grows. It can accommodate up to 25 users and offers strong invoicing and time tracking features for consultants.
It also integrates with useful tools, such as QuickBooks Time, which simplifies time tracking and offers additional features, such as GPS tracking and geofencing. AccountSight has limited mobile app functionality, and it doesn't provide GPS tracking and geofencing. QuickBooks Online also has strong invoicing capabilities and lets you track income and expenses by location and class.
Project accounting: QuickBooks is ideal for small consulting businesses that work on a project basis because it allows you to create projects and assign wages, income, and expenses. While it doesn't let you set up cost estimates for projects and compare them to actual costs, you can create project estimates and include labor.
Location and class tracking: QuickBooks Online allows you to set up tags to track your income and expenses across different departments, properties, or locations of your business. This feature is helpful for determining which department earns the most money for your business.
Invoicing: We selected QuickBooks Online as the overall best small business accounting software because of its excellent invoice customization tools. You can choose from different templates, add your logo, change colors, and include personalized messages. Recurring invoicing is also now available with all plans, including Simple Start.
Integrations: QuickBooks Online integrates with a wide range of third-party software to boost your productivity and connects with thousands of apps through Zapier. It integrates with other QuickBooks solutions, including QuickBooks Payments and QuickBooks Time, which makes time tracking even easier for consultants. It allows you to pull employee data for payroll and invoicing, keep track of employee tasks and schedules. It even reminds employees to clock in or out automatically.
Mileage tracking: QuickBooks Online's mileage tracking feature includes GPS tracking and allows you to stay on top of your mileage expenses for client billing. You can also account for non-billable mileage expenses to track your profit.
Startup businesses planning to scale: QuickBooks Online, our top-recommended startup accounting software, allows you to add advanced accounting features as your firm grows. This is useful for consulting businesses wanting scalable and user-friendly accounting software.
Creative agencies with multiple locations: QuickBooks Online's class and location tracking features let creative agencies with multiple locations separate net profit by location. Plus, the platform also includes useful project accounting features.
Law firms: QuickBooks Online made our list of best law firm accounting software when integrated with LeanLaw, which makes it a powerful legal management and accounting solution. You may be interested in our in-depth review of LeanLaw for more on the platform.
QuickBooks Desktop Premier Professional Services Edition: Best Desktop Accounting Software for Consultants

Pros
Assign billing rates by employee, service code, or customer and job
Batch-create invoices for unbilled time and expenses
Generate customized reports tailored for professional service businesses
Track unbilled time and expenses by project, client, employee, or service
Cons
Mileage tracking app only for iOS devices
Not able to track billing adjustments for fixed-fee engagements
License allows for only up to five users or computers
Pricing
QuickBooks Desktop Premier Professional Services Edition has the same prices as the general business edition of QuickBooks Desktop Premier:
One user: $799 per year
Two users: $1,099 per year
Three users: $1,399 per year
Four users: $1,699 per year
Five users: $1,999 per year
Businesses requiring more than five users must upgrade to QuickBooks Enterprise, which supports up to 40 seats. You can head over to our review of QuickBooks Enterprise to get more insight into the platform's features and pricing.
QuickBooks Desktop Premier Professional Services Edition is the best desktop accounting software for consultants. Its features are ideal for businesses that bill by the hour—you can create both proposals and estimates, track unbilled time and expenses by project, client, employee, or service and also have access to project costing and batch invoicing tools. The edition also lets you generate professional service-specific reports that relate to project hours and expenses.
Proposal and estimate management: QuickBooks Desktop Premier Professional Services Edition allows you to create both proposals and estimates. Accessible from the Professional menu on your dashboard, you can enter details about the service you wish to provide, such as rate, amount, class, markup, and total.
Time tracking: Enter your or your employees' time in a weekly timesheet and assign it a service code and customer job. You can also assign nonbillable time to a nonbillable service item so that you can track your own expenses as well.
Project costing: With project costing, you can track the expenses for a project and compare them to your revenue, which will give you a better idea of your profit and spend for each project. You can also compare job estimates and actual expenses.
Batch invoicing: You can batch-create invoices for unbilled time and expenses, and mileage by job. It allows you to select the clients you want to bill, and it will generate invoices automatically. If you want to only bill a portion of unbilled time and expenses, you can select a single job.
Tailored reports: The Professional Services Edition includes the same financial reports as QuickBooks Premier, and additional reports that enable you to track your billable expenses to ensure they are billed or assigned to a customer or project. These reports include billed vs proposal by project, expenses not assigned to projects, and billed and unbilled hours by employee and project.
Businesses that bill customers by the hour: QuickBooks Desktop Premier Professional Services edition is ideal for engineering firms, accounting firms, digital marketing companies, and other businesses that bill by the hour because it allows employees to assign their hours to particular customers and jobs.
Businesses with in-house bookkeepers or accounting-savvy owners: QuickBooks Desktop is designed with accountants in mind and it is equipped with a flowchart-based user interface that has a continuous stream of related files and folders.
iOS users who track mileage: QuickBooks Desktop Premier's mileage tracking app is only available for iOS devices. It allows you to calculate your business mileage automatically by entering your place of origin and destination, eliminating the need for tracking odometer readings manually.
Zoho Books: Best Mobile App for Consultants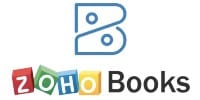 Pros
Mobile app can perform almost any accounting function
Excellent customer support
Competitive free plan for users with less than $50,000 in annual revenue
App integration with Apple Watch
Cons
Project accounting only in paid plans
Additional fee for more users
Limited invoicing for the Free and Standard plans
Requires Professional plan or higher to manage and track unpaid bills
Pricing
Zoho Books offers a free plan for businesses that earn $50,000 or less in annual revenue and five paid subscription plan options with project accounting features:
Standard: $20 per month for up to three users and 5,000 invoices
Professional: $50 per month for up to five users and unlimited invoices
Premium: $70 per month for up to 10 users and unlimited invoices
Elite: $150 per month for up to 10 users, unlimited invoices, and advanced inventory
Ultimate: $275 per month for up to 15 users, unlimited invoices, and advanced inventory.
It also has several add-ons:
Additional users: $3 per user, per month
Receipt scanning: $10 for 50 scans per month
Snail mail credits for sending invoices: $2 per credit
We selected Zoho Books as the best mobile app for consultants because of its excellent functionality for both iOS and Android devices, which is why it also tops our list of the leading mobile accounting apps. Its integration with the Apple Watch is a bonus.
On the app, you can perform all the same functions as the web-based interface, including sending invoices, receiving payments, entering bills, uploading receipts, and recording time worked. The app also allows you to assign expenses to customers or projects and time worked to customers or projects.
Mobile app: Mobile accounting is one of Zoho Books' biggest strengths because it performs the same accounting tasks as the web interface. This includes invoicing, recording bills and bill payments, accepting online payments, and viewing financial reports.
Expense management: Capture and categorize project-related expenses and track reimbursable expenses and record vendor bills. This helps with allocating costs accurately and ensures that project costs are accounted for.
Project tracking: Users can set up and track projects to monitor project-specific income, expenses, and profitability. Income and expenses can be assigned to specific projects, and you can generate reports to analyze project performance.
Reporting and analysis: Zoho Books offers project-specific financial reports, such as the ability to analyze project expenses and assess project profitability. This data is critical to managing projects effectively.
Time tracking: Zoho Books' time tracking features allow you to monitor the time spent on project tasks easily. You can track billable hours, associate them with specific projects, and record employee timesheets. This ensures accurate project costing and invoicing based on hours worked.
Consultants seeking powerful mobile accounting: Zoho Books has excellent functionality on iOS and Android devices and even has an app integration with Apple Watch. Its mobile app can do all the basic accounting functions, like sending invoices, entering bills, and recording billable time.
Service-based businesses: Zoho Books is a good fit for service-based businesses, such as marketing agencies, information technology (IT) services, and professional service providers. Its powerful features like invoicing and time tracking allow businesses to track time spent on projects and bill clients seamlessly.
Freelancers and self-employed individuals: Zoho Books allows you to create and send professional invoices, track time and project expenses to include on invoices, and manage all of your clients in one place. We selected it as the overall best accounting software for freelancers.
AccountSight: Best Free Time Tracking Software for Consultants

Pros
Powerful invoicing features
Online time tracker
Robust expense tracking tools
Responsive customer support
Cons
Lacks employee productivity tools
Number of clients and projects are limited with Free plan
Limited mobile app functionalities
Limited third-party integrations
Pricing
AccountSight offers a free plan, and its three paid plans allow for unlimited clients, invoicing, and projects, and charge per person, per month. Prices are based on user packs, which give volume discounts based on the number of users required:
Free: $0 for one user, five clients, and five projects
Basic: $10 per user, per month; comes with a 2- to 5-user pack
Small Group: $9 per user, per month; comes with a 6- to 20-user pack
Enterprise: $8 per user, per month; comes with a 21- to 100-user pack
AccountSight is one of our best accounting software for consultants, given its comprehensive time tracking and billing software. It earned a spot in our roundup of the best free time tracking software.
It offers various features to help businesses streamline their time and expense management processes. It can also be integrated with QuickBooks Online to give you access to other accounting features, such as creating customized invoices and tracking and paying bills.
Timesheet management: While AccountSight's free plan allows you to create a timesheet for yourself, the paid plans let your employees upload timesheets individually or in bulk via Excel. It allows for five levels of approval, and managers will receive reminders to approve or reject time sheets individually or in bulk. You can also add comments and upload expense reports or other files.
Invoicing: AccountSight allows for three types of invoices: manual invoices, invoices based on billable hours and expenses, and recurring invoices for costs. You can also copy existing invoices. You can use predefined billing rates or create ad hoc discounts and price adjustments, and you can also set notifications to track payment delays.
Reporting: AccountSight's detailed reports provide real-time visibility into project performance and allow you to create more accurate forecasts. You can review and analyze all weekly timesheet data and compare all invoiced and unbilled project expenses. You can also track billable realization, and details of resources allocated to projects and tasks.
Expense tracking: Users can track and manage all project expenses and set expense types with charge rates or per-unit costs before completing the online expense sheets. There is also a comments entry allowed for each date, project, and expense category combination.
Project planning: AccountSight allows you to plan projects and forecast resource needs, coordinate team assignments, and allocate the right resources for your project. You can analyze capacity and requirements by gaining insight into existing or future resource gaps.
Consulting firms seeking advanced time tracking features: AccountSight allows employees to track their time spent on different tasks and projects. It also provides an intuitive interface for employees to log their hours and activities, making it easier to track billable hours accurately. One feature of AccountSight that other providers on this list lack is configurable notifications and reminders for missed or delayed time, expenses, and invoices.
Project-based businesses that need access to reporting and analytics: Offering robust reporting and analytics capabilities, AccountSight allows users to generate a variety of reports, such as project profitability, employee productivity, and revenue analysis. These insights help businesses make data-driven decisions and identify areas for improvement.
Consultants who require strong client management tools: AccountSight facilitates client management by maintaining a centralized database of client information. Users can track client-specific projects, view billing history, and generate reports to analyze profitability and client relationships.
How We Evaluated the Best Accounting Software for Consultants
Evaluating the best accounting software for consultants requires careful consideration of various factors that are crucial to the specific needs and preferences of consultants. Here are the features we looked for when evaluating providers:
Consultant-specific features: One of the most important features for consultants is the ability to track time, so we evaluated the extent to which you can do so and how time tracking can help with invoicing as well.
User-friendliness: We evaluated each software's user interface and overall user experience. An intuitive and easy-to-use interface can save time and reduce the potential learning curve.
Integrations: If you already use other software or tools in your consulting business, it is helpful to know if the accounting software can integrate seamlessly with them. Common integrations include CRM systems, project management tools, and payment gateways.
Customer support: We looked for software providers that provide reliable customer support, preferably with multiple channels like email, phone, and live chat. Prompt and helpful support can be critical when you encounter issues or have questions.
Mobile accessibility: For users that often work on the go, we evaluated whether the software has a mobile app that allows you to manage your finances from a smartphone or tablet.
Scalability: We determined whether the software can grow with your consulting business since you don't want to outgrow it too quickly.
Cloud-based vs desktop software: We looked at the benefits and limitations of both cloud-based and desktop software to help you determine if it's a fit for your business.
Cost: Cost is an important factor, especially if you're seeking an affordable option. We looked at the software's different pricing plans and what is included, as well as extra charges for additional features.
Frequently Asked Questions (FAQs)


When selecting accounting software for consultants, consider features such as time tracking, invoicing capabilities, expense tracking, project management integration, financial reporting, customer support, and data security.
---


Yes—as long as the software you select provides time tracking functionality. Some examples include AccountSight, FreshBooks, QuickBooks Online, and Zoho Books.
---


To choose the right accounting software, consider factors like your business size, your budget, the features you require, ease of use, scalability, customer support, and compatibility with other tools you use. Reading user reviews and seeking recommendations from other consultants can provide valuable insights.
---
Bottom Line
The best accounting software for your consulting business depends on your specific needs. FreshBooks is an affordable option for independent consultants, while QuickBooks Online is scalable and better suited for small consulting businesses. QuickBooks Desktop Premier Professional Services Edition is ideal for desktop users, and Zoho Books has both a robust mobile app and general accounting features. If you're seeking an advanced time tracking and billing solution, AccountSight is an excellent option.